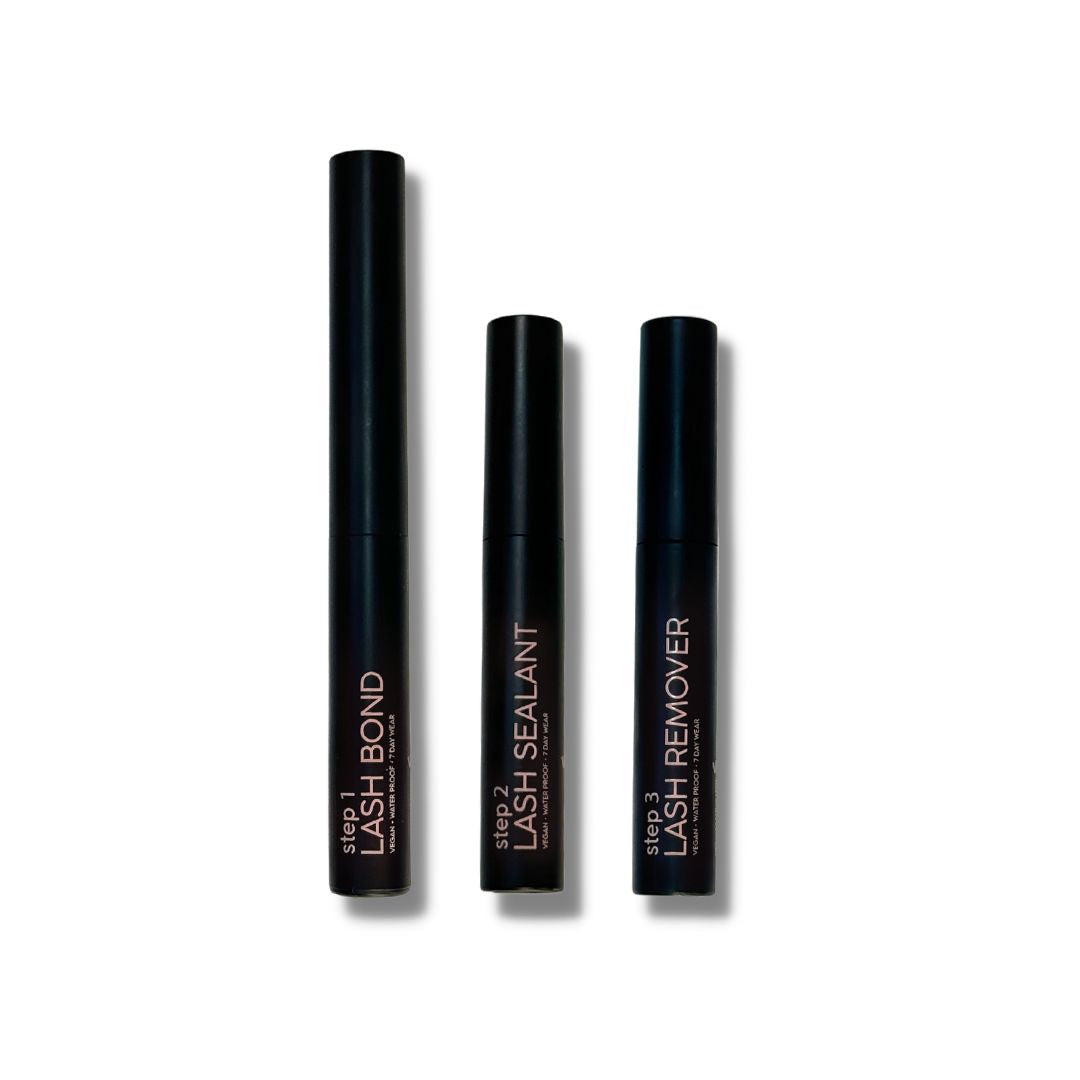 Description
Meet Barely There™ - the most comfortable DIY lash extension system on the market.

Barely There is effortlessly applied under your natural lashes for an undetectable, waterproof wear up to 7 days.
It's perfect for those with short stubby lashes that won't curl, or those who want to wake up in lashes everyday!
Our Bond Formula
Our bond is vegan, cruelty-free and non-damaging as it is formulated like tubing mascara. 
PETA certified Vegan & Cruelty-free
Formaldehyde-free & Latex-free
Safe for sensitive eyes & contact wearers
Our Sealant
The real game changer is our sealant² is black unlike other DIY lash extensions. This keeps them looking fresh longer, unlike white sealant that turns hazy after a day!
We recommend using a light amount of sealant² on the bottom and top of lash line to lock it in. You can also apply sealant² heavily to lashes if you are looking for a macara effect.
PETA certified Vegan & Cruelty-free
Formaldehyde-free & Latex-free
Safe for sensitive eyes & contact wearers
Ingredients
STYRENE/ACRYLATES COPOLYMER, WATER (AQUA), C177499, PROPYLENE GLYCOL, PHENOXYETHANOL/ETHYLHEXYL GLYCERIN, OCTANEDIOL/ETHYLHEXYL GLYCERIN
Remover
With nourishing ingredients like Jojoba Oil, our remover³ also doubles as a lash serum. Apply to clean lashes for an extra boost of lash health! We love a multi-purpose Queen!
Apply our remover³ generously by rolling the applicator on the top and the bottom of your lashes. Let sit for 1-3 minutes. Since our bond¹ is similar to tubing mascara, it will loosen after the remover³ is applied and will slide off like tubes. Repeat until lashes and bond¹ slide off. For faster removal grab lower lash band and pull up when loose.
Use a cotton round or lash rescue to clean off any stubborn excess bond¹.
Ingredients
ETHYLHEXYL PALMITATE, CAPRYLIC/CAPRIC TRIGLYCERIDE. PEG-20 GLYCERYL TRIISOSTEARATE. ISONONYL ISONONANOATE, SIMMONDSIA CHINENSIS (JOJOBA), ETHYLHEXYLGLYCERIN, WATER
Application

Apply a few coats of the bond¹  as you would mascara depositing more product on the base of your lashes. Then apply bond on the top of the band of the lash cluster.
*For your first application, we recommend using less bond¹ so you can experiment with application if need be!
For more information visit https://www.gimmelash.com/pages/barely-there-how-to
Lash adhesive and tools are sold separately unless indicated in a kit or bundle.